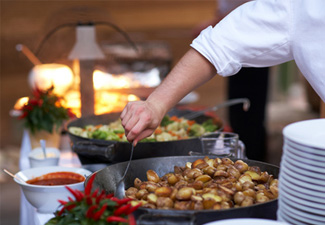 Weddings
ALL WEDDING MENUS BASED ON 200 PEOPLE OR MORE
UNDER 200-100 PEOPLE THERE IS A $65.00 SERVICE FEE
UNDER 100 PEOPLE THERE IS AN ADDITIONAL $1.00 PER PERSON AS WELL AS THE $65.00 SERVICE FEE
You get married but once, let Jack's make it a memorable occasion!
Let Jack's make your wedding a memorable moment. Whether you want a simple buffet or an elegant sit-down dinner, we cater to all your wedding needs.
Large or small, we can make your next event a great success!
Simple cold buffets, combination meals, sit-downs, hot meals…whatever you want, we can make it a memorable occasion for you.
All wedding menus will include upscale clear or white embossed plastic plates and reflections silverware, at no additional cost.
No. 1 Wedding Menu
Carved Pork Tenderloin w/Rich Brown Gravy, Bourbon
BBQ sauce, and Horseradish on the side
Boneless Chicken Breast w/Light Teriyaki glaze and
Pineapple Bacon Salsa
Baked Potato Bar w/cheese, butter,
sour cream, bacon bits and diced onions
Seasoned Green Beans
Caesar Salad w/egg
Fresh cut Fruit Salad
Assorted Rolls & Butter
$11.95 Per Person
No. 2 Wedding Menu
Roast Beef & Gravy Boneless Chicken Breast with
Parmesan Sauce and Bacon
Fresh Vegetable Blend
Smashed Redskin Potatoes
Tossed Salad w/Dressings Caesar Salad
Antipasto Tray
Rolls & Butter
$10.95 Per Person
No. 3 Wedding Menu
Carved Top Round of Beef served with
Au Jus and Horseradish
Boneless Balsamic Glazed Chicken Breasts with
Fresh Mozzarella and Heirloom Tomatoes
Tiny Belgian Carrots
Sugar snap peas w/grape tomatoes, Sesame and
Seasonings.
Whole New Potatoes with Butter and Parsley
Spring Mix Salad with Dressings
Assorted Rolls and Butter
$12.95 Per Person
No. 4 Wedding Menu
Boneless Chicken Thighs w/Teriyaki Glaze, Fresh
Scallions and Pineapple
Citrus Glazed Salmon
Roasted Fresh Corn w/Sea Salt and Parmesan
Fresh made Ricotta filled Cannoli w/Marinara Sauce
Red skin Roasted Potatoes with Rosemary
Fresh Green Salad
Assorted Rolls & Butter
$12.95 Per Person
No. 5 Wedding Menu
Prime Top Round of Beef, Hot in Gravy
Glazed Lean Sliced Baked Ham with Sliced Breast of Turkey
Vegetable Fettuccine or Mostocholi w/melted cheese
Assorted Cheese Trays – Swiss, American, Longhorn,
Sharp and Hot Pepper Cheese
Vegetable Trays – Pickles and Olive Tray
Hot Baked Beans
Tossed Salad
FRESH HOMEMADE SALADS
Potato Salad, Macaroni Salad, Cole Slaw and Pasta Salad
Assorted Breads
$7.95 Per Person
Add Mashed Potatoes 75¢
No. 6 Wedding Menu features . . .
Salmon With Brown Sugar and Dijon Glaze or Soy and Brown Sugar
Boubon Glazed Chicken Breast
Red Creamer Potatoes with Butter and Seasoning
Fresh Seasoned Green Beans
Spinach Salad w/Feta Cheese, Cherry Tomatoes, and
Cucumbers
Assorted Rolls and Butter
$10.95 Per Person
No. 7 Wedding Menu – Cold Buffet
Round of Beef, both Rare and Well Done Glazed Lean Sliced Baked Ham with Sliced Turkey Breast Assorted
Cheese Trays- Swiss, American Longhorn,
and Hot Pepper Cheese
Vegetable Trays – Pickles and Olive Tray
Hot Baked Beans
FRESH HOMEMADE SALADS
Potato Salad, Macaroni Salad, Cole Slaw and Pasta Salad
Assorted Breads
$6.95 Per Person
No. 8 Wedding Menu features . . .
Glazed Lean Sliced Baked Ham (Cold), Sliced Turkey
Baked Mostocholi, with Marinara Sauce and Melted
Italian Cheese
Your Choice: Fried, BBQ or Lite Italian Chicken
Mashed Potatoes
Hot Roast Beef with Gravy
Assorted Cheese Trays – Swiss, American, Longhorn and
Sharp Cheese
Pickles and Olive Tray
Hot Baked Beans or Homemade Green Beans
Tossed Salad w//Dressings
FRESH HOMEMADE SALADS
Potato Salad, Macaroni Salad, Cole Slaw and Pasta Salad
Assorted Breads
All Service
$9.95 Per Person
No. 9 Wedding Menu features . . .
Grilled Steak Tips with Italian and BBQ Marinade and caramelized onions and mushrooms
Baked Salmon or Mahi Mahi with your choice of Brown Sugar or Soy Sauce Glaze
Loaded Baked Potato Bar
Roasted Julianne Vegetables with Garlic Butter Sauce
Tossed Salad with Dressings
Assorted Rolls, Butter
$11.95 Per Person
Additional Chicken Choices to go with Wedding Menus
• Parmesan Garlic • KY Bourbon Glazed • Lemon Garlic
• Balsamic Glazed • Asian Ginger • Tuscan
• California Style • Chicken Florentine
Add a Kids Menu to Your Event $3.95 per person
1) Chicken Tenders, Mac and Cheese, Apple Sauce
2) Spaghetti and Marinara Sauce w/Fruit Cup and Bread
Featuring for your Wedding or Party
Chocolate Fountain served with Cantaloupe, Honey Dew,
Marshmallows, Pretzels, Strawberries, Pineapple, Graham
Crackers, Cookie Sticks, Rice Crispy Treats.
$2.95 Per Person + $85.00 Service Charge
Candy Station for Young and Old
Over 20 different candies on display to grab and fill your bags with.
$2.95 Per Person
"Ice Cream Sundae Bar"
Hand Dipped Ice Cream w/Toppings Chocolate Syrup, Marshmallows, M&Ms, Snicker pieces, Rainbow Sprinkles, Chocolate
Sprinkles, Chocolate Chips, Cherries, Strawberries,
Butterscotch,
Coconut, Peanuts, Oreo Pieces,
and Whipped Cream
$3.25 Per Person
Our Vegetables
Fresh Cut Whole Kernel Corn
Seasoned Green Beans
Green Beans Almondine
Green Bean Casserole
Tiny Whole Belgian Carrots
Fresh Seasoned Vegetable Blend
California Medley (Broccoli, Carrots, Cauliflower)
Corn on the Cob
Broccoli Casserole
Roasted Brussel Sprouts w/Bacon and Red Onion
Asparagus (Grilled, Steamed or Fried)
$1.00 more per person
Sauteed Julianne Vegetables
Our Potatoes
Baked Potatoes or Sweet Potatoes
Mashed Potatoes w/Butter
Smashed Redskin Potatoes with Butter
Au Gratin/Scalloped
Tiny Whole Potatoes, Parsley & Butter
Redskin Potatoes (Quartered and Seasoned)
Homemade Celery and Sage dressing
Cheese Potatoes with Onions and Peppers
Baked Potato Bar ($1.50 extra)
Double Stuffed Potatoes ($1.00 extra)
Baked Potato Casserole
Green Onion and Garlic Potatoes
Rice Pilaf
Garden Blend Wild Rice
Potatoes Romanoff
Macaroni & Cheese
Sweet Potato Casserole
Our Salads
Lettuce Wedge with Dressing and Bacon Crumbles
Fresh Cut Fruit Salad
Green Tossed Salad • Caesar Salad Spinach Salad • Spring Mix Salad Health Salad
Potato Salad • German Potato Salad
Cole Slaw • Macaroni Salad • Cucumber Salad
"Many more menus are available, these are just a sampling of
what we do. Call with your ideas and we'll give you a price!"
China and Silverware with Napkins available for $3.50 per
person extra.
Clear Plates w/Reflections Silverware available
Masterpiece w/Reflections Silverware available
Rental Linens $7.00 each – All Sizes
Cloth Napkins 60¢ each
$65.00 Clearing Fee