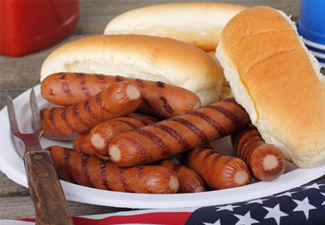 Cook Outs
ALL MENUS BASED ON 100 PEOPLE OR MORE UNDER 100 THERE IS AN ADDITIONAL $1.00 PER PERSON
ALL COOKOUT MENUS HAVE A $65.00 GRILL FEE
Cookout No. 1 "America's Favorite"
Hot Dogs, Bratwurst, Mettwurst, Hamburgers, Italian
Sausage, Cheeseburgers, Black Bean Veggie Burgers
Sliced American Cheese, Relish, Mustard , Catsup, Mayo
Potato Salad, Cream Style Cole Slaw
Fresh Pasta Salad, Macaroni Salad, Hot Baked Beans
Ripe Sliced Tomatoes, Sweet Onions & Shredded Lettuce
All Buns and Service Salt, Pepper, Forks, Napkins, etc.
Sauteed Green Peppers, Onion,Mushrooms
And Hot Sauerkraut for Toppings
$7.50 Per Person
Also Available at additional cost . . .
Rib Eye Steak Sandwich $1.75 each
Grilled Chicken Breast Sandwich $1.50 each
Corn on the Cob 75¢ each
Macaroni & Cheese 75¢ per person
Turkey Burgers $1.00 each
California Veggie Taco $1.50 per person
Cookout No. 1A "Personal Favorite"
Hamburgers, Cheeseburgers, Black Bean Veggie Burgers
Brats, Metts, Hot Dogs and Italian Sausage
Sliced American Cheese,Sliced Tomatoes, Pickles,Onions,
Mushrooms, Onions, and Peppers Sauteed on the Grill
Hot Baked Beans, Hot Macaroni and Cheese
Corn on the Cob • Individual Bags of Chips,
Chilled Watermelon Slices
All Buns, and Condiments included
$8.95 Per Person
Cookout No. 1B "Golf Outing Special quick and easy"
Hamburgers, Cheeseburgers,Brats, Metts, Hot Dogs,
Black Bean Veggie Burgers
Baked Beans, Potato Salad, Cole Slaw
Onions, Tomatoes, Pickles
All Buns, and Condiments included $6.50 Per Person
"Take it up a notch !!"
Add a Hot Dog Station to any Cookout for $1.25/person
Includes: All Beef Hot Dogs, Relish, Spicy Brown Mustard,
Ketchup, Sauerkraut, Onions, Shredded Cheese and
Lettuce, Chili, Cole Slaw, Chopped Tomatoes, and Jalapeno
Peppers.
Cookout No. 2 "Southern Barbecue"
Slow Cooked Pulled Pork mixed with
Onions and Sauces
Sweet Homemade Beef BBQ
Barbecued Chicken
Baked Beans and Southern Style Cheese Potatoes
Corn on the Cob
Cole Slaw and Potato Salad
Individual bags of Chips
$8.50 Per Person
Cookout No. 3 "Tri-State's Finest Ribs"
Baby Loin Back Ribs in Our Own Western Sauce "Full Slab"
Choice of Potato, Choice of Vegetable, Tossed Salad
Rolls & Butter $13.95
Or 1/2 Slab of Ribs
$8.95 Per Person
Cookout No. 4
Charcoal 10-12oz. New York Strip Sirloin Steaks with
Sauteed Mushrooms
Hot Fluffy Baked Potato with Butter and Sour Cream
Hot Vegetable (your choice), Rolls & Butter
Big Green Tossed Salad (all you want)
$13.95 100 or more
Or 8oz Steak
$9.95 Per Person
Add Grilled Chicken Breast $2.00 more per person
Don't Forget on your Cookout Party Plans or
your Company Picnic Ideas, We Also Have:
*Ice Cold Soft Drinks *Sno-Cone Machines
*Popcorn Machines *Cotton Candy Machines
*Nachos and Cheese
ALL STEAK SELECTIONS USED ARE
"SUPREME™ ANGUS BEEF"
Cookout No. 4A "Ultimate Steak Cookout"
12oz Rib Eye Steak w/Sauteed Mushrooms and Onions
Loaded Baked Potato Bar
Fresh Roasted Corn with our Mobile Corn Roaster
(parties under 100 corn will be roasted on the grill)
Salad Bar with Green Tossed Salad, Fresh Fruit Salad, Fresh
Cucumber Salad, Asst. Rolls & Butter
$16.95 Per Person
Add Slow Cooked Brisket to Any Cookout
$2.95 Per Person!
Cookout No. 5
Steak and Ribs with sauteed Mushrooms
New York Strip Sirloin Steak (Prime)
plus Loin Baby Back Ribs over Charcoal
Hot Fluffy Baked Potato, Hot Vegetable (your choice)
Big Green Tossed Salad (all you want)
Rolls & Butter
$16.95 Per Person
or Steak, Ribs and Chicken
$17.95 Per Person
Heavy Ribs
$18.95 Per Person
Cookout No. 6
"Country Style" BBQ Ribs
Corn on the Cob, Baked Beans, Cole Slaw and Potato Salad
Rolls & Butter
$6.95 Per Person
Cookout No. 7
Barbecued Pork Chops, Barbecued Chicken
Choice of Potato, Choice of Vegetable
Tossed Salad
Rolls & Butter
$8.25 Per Person
Cookout No. 8 "Caribbean Delight"
Grilled Beef, Pork & Chicken Kabobs with Red Yellow and
Green Peppers and Onions
Caribbean Jerk Sauce, BBQ and Sweet & Sour Sauce on
the side
Saulsilito Vegetable Blend
Red Roasted Potatoes, Fresh Sliced Fruit, Fresh Pasta Salad
Tossed Salad w/ Dressings
Assorted Vegetable Tray
Rolls & Butter
$10.95 Per Person
Add Shrimp Kabobs $2.00 per person
Cookout No. 9
Grilled Chicken Quarters with our Tangy BBQ Sauce
Grilled Vegetable Skewers with Tomatoes, Portebella
Mushrooms, Red Onions, Zucchini, Red and Yellow Peppers
Red Roasted Potatoes with Seasonings
Tossed Salad with Dressings
Rolls & Butter
$7.95 Per Person
"Try our new Mobile Corn Roaster"
Fresh Corn Roasted on site in the Husk
$1.50 per person + $65 Service Charge
Cookout No. 10 "Surf and Turf"
Skewered Shrimp sauteed on the grill
Strip or Rib Eye Steak (8 oz), your choice
Choice of Potato, Choice of Vegetable
Tossed Salad
Rolls & Butter
$12.95 Per Person
Or with Grilled Chicken Breasts instead of steak
$10.95 Per Person
Cookout No. 11
Pork Chops, Marinated in Apple Juice and Brown Sugar
Grilled on Site
Southern Style Cheese Potatoes
Corn on the Cob
Pineapple Bacon Salsa
Fresh Cut Fruit Salad
Assorted Rolls, Butter
$8.95 Per Person
Cookout No. 12
Sliced Beef Brisket "slow roasted"
with BBQ Brown Sugar Glaze
Pulled Chicken BBQ
Corn on the Cob (grilled in the husk)
Bacon Cheddar Potato Casserole
Fresh Pasta Salad, Fresh Cut Assorted Fruits
$8.95 Per Person
Cookout No. 13
Adobe Grilled Sirloin with Caramelized Onions and
Chimichurri Sauce on the side
Sliced Cheesy Ranch Potatoes
Grilled Julianne Vegetables with garlic butter sauce
Tossed Salad with Dressings
Assorted Rolls,Butter
$10.95 Per Person