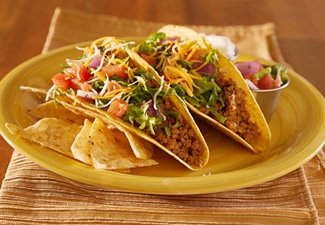 Our Mexican Side
ALL MENUS ARE BASED ON 200 PEOPLE OR MORE. UNDER 200 PEOPLE THERE IS A $65 SERVICE FEE.
UNDER 100 PEOPLE THERE IS A ADDITIONAL $1.00 PER PERSON.
No. 1 "TACO BAR"
Beef Taco Filling
Mexican Rice / Refried Beans
Sour Cream, Onions, Shredded Lettuce, Tomatoes,
Shredded Cheese and Taco Sauce
Hard Shells and Flour Tortillas
Chips and Salsa
$5.95 Per Person
* Add Chicken Filling for $1.00 more !
No. 2 " FAJITAS BAR"
Grilled Chicken and Beef Strips
with Onions, and Red / Green Peppers
Mexican Rice
Sour Cream, Onions, Shredded Lettuce, Tomatoes,
Shredded Cheese and Taco Sauce
Served with Flour Tortillas
$7.95 Per Person
No. 3 "MEXICAN PARTY"
Grilled Chicken and Steak Fajitas
Beef Burritos and Beef Tacos
Authentic Corn Wrapped Tamales
Mexican Rice
Seven Layer Taco Dip with Chips
All Toppings and Sauces Needed
Flour Tortillas and Taco Shells
$9.95 Per Person